Blog > Post Time- 12:08 PM Post By - admin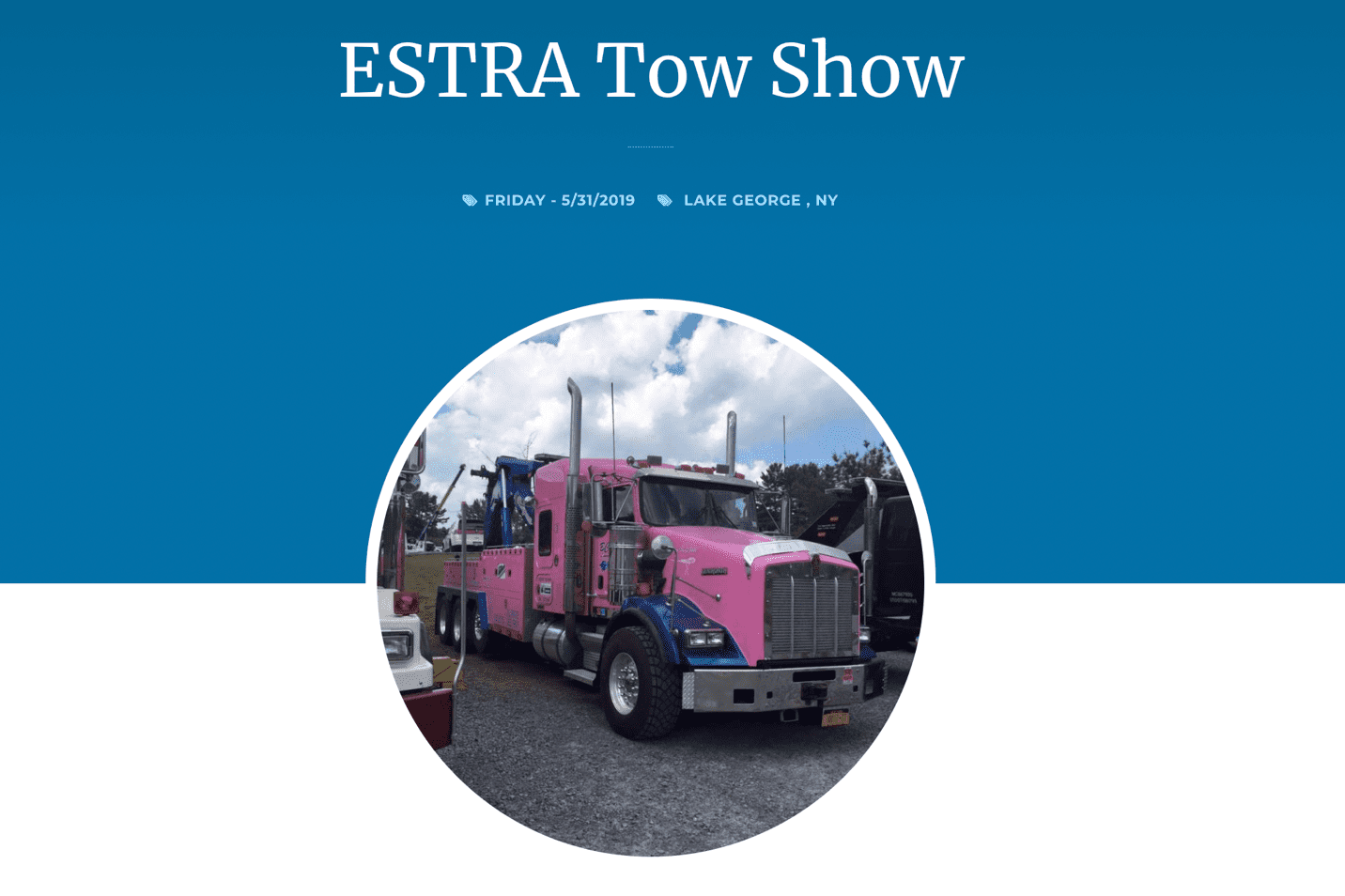 Mark Your Calendars for the 36th Annual ESTRA Tow Show
May 31 – June 2, 2019 | Charles R. Wood Park – Lake George, NY
Tow trucks of all shapes, colors and sizes will be rolling in to Lake George, NY at the end of next month.
The Empire State Towing & Recovery Association (ESTRA) was first established in June of 1980.  At that time, the "Founding Fathers" — identified three main objectives for establishing a statewide towing association, education, legislative advocacy and development of a network of support among colleagues in the tow industry. These objectives remain at the core of ESTRA's mission today.
For nearly four decades ESTRA has been providing a forum for bringing together towers in the industry at the ESTRA Annual Tow Show. the Tow Show is an important social, political, and educational venue for towers to address concerns and share information.
This year's celebration is sure to be the industry's largest association sponsored towing and recovery event held in the Northeast in 2019. As we bring old and new friends together, we are confident our show will bring enjoyment to all that attend. We look forward to seeing you
Attendee Information
ESTRA Tow Show is a great family fun event – stop by and see what the trucks can do.
Admission is free, vendors will be providing valuable industry information, training and demonstrations.
As part of the show there is the Tow Truck Beauty Contest – 1st and 2nd place awards will be presented. The trucks on exhibit will enter to qualify for the Grand Champion; Most Unique Paint and Most Detailed Engine. Come and see if your pick was in the finishing line-up.
The Little Towers – Children's Rodeo takes place on Sunday. It's a mini-truck competition for the future drivers as they race around for prizes.
Exhibitor Information
This year's show layout provides maximum exposure for all the participating exhibitors, providing 10 x 10 vendor exhibit areas as well as larger uncovered 20×30 spaces, and parking available for truck sales. One eight foot table and two chairs will be provided upon request.
Exhibitors space will be reserved on a first come, first serve basis. They are only guaranteed by payment in full. In addition, all vendor spaces Must be prepaid By May 1st. In addition to the enclosed Exhibitors Reservation Contract, a Lake George Vendor application is attached. Please fill in your information and return it to me with your exhibitor contract.
Hotel Accommodations
Holiday inn resort (host)
518-668-5781
tiki resort
518-668-5744
If you're looking for a distributor for new and used car carriers, light to heavy duty carriers, standard and heavy duty wreckers, rotators, battery trucks, rollbacks, flatbeds, towing parts, service and specialty tow equipment in New York and surrounding areas, visit us online at Tri-State Towing Equipment of New York or call us for immediate assistance 516.338.9333.
With more than 75 years combined experience in all aspects of the towing industry our team of professionals can assist you with all of your towing needs. A Proud Employer of U.S. Veterans.